first be with the moment, enjoy it, breathe it all in and smell the roses
then bring out the camera...
So often when I'm travelling, I see something beautiful and my instant thought is to whip out my camera. I don't think this particularly bad but I feel like there are better ways to handle the situation. I'm currently trying my best to first soak in the moment and actually just enjoy everything that surrounds me before I have the distraction of the camera. Because as soon as the camera comes out, my mind is fixed on getting the best shot and making sure that it looks as appealing as possible for all my viewers.
As hippy as it might sound, I think you can get so much more out of a scenic landscape, a monument or a sunset if you give yourself a few extra moments to get lost in it. Forget everything else and just be.
Then after all that, get out your DSLR or phone and go crazy with the photos. But please for everyones sake, don't bring out the selfie-sticks...
A story and photo a day. Keeps the doctor away.
Unless you're sick. Then go see a doctor.
(Note: If you're viewing on a mobile device, please turn it horizontal to view the story)
When I was walking down Mt. Croagh Patrick, loads of hikers going up would ask me how much left until the summit. Even when they were like around the corner from the summit, I would still say quiet casually 'you're about 3/4's of the way there'. I could hear their hearts drop.
I love it how everyone on the island doesn't knock or anything when entering someone elses home. Everyone is so welcoming to every and anyone.
I had just seen the Centre Georges Pompidou, Eiffel Tower and circled through the crazy traffic of Arc de Triomphe. But for me personally, this wins.
Tom, the English-Maylasian little guy will soon be the goal keeper for Newcastle United. Rumour has it.
The American in the middle gave a great donation to the community where we were volunteering in Nepal. If I had known, I might of been a bit more serious.
At break time, I saw some of the students doing cart wheels. I wanted to join in, I tried but my cart wheels weren't up to their standard. I was shocking. But they wanted me to keep trying so I would get better. 10 minutes later, I thought I stretched my stomach and doubled my height.
I wasn't a very good English teacher, because I still had a student mind. These guys had exams the next week and I said 'Why don't we just play some games instead?'. I'm horrible, I know.
The closest teacher on the left was an absolute clown. One morning he came to school with a huge smile on his face. He said he was 'talking' with his wife for the whole night.. without a break.
I don't think I ever had a bad start to the day. When I was walking through the school, I could literally hear and feel the positivity from the students.
The student on the right blended into the background during school. He was quiet and kept to himself. Then when we got onto the football pitch, he was that quick, we then blended into the background.
The other American volunteer Arjun, looking out for one of his students.
These 3 were pretty cheeky when playing chasey/tag. They would always have a giggle whenever they tagged one of the girls.
Most of the kids up on this mountain had never seen a white person before. When they first saw me, they ran away and were really scared. After juggling for 10 - 15 minutes, they slowly crept up to me and began to trust me. Trust me enough to take this photo.
When these kids would play chasey/tag, they were serious. Like they were pretty rough. I don't think if I was 10 years old I would be able to handle it. I don't think I would be able to handle it if I was 18 years old either... It was that hectic.
It was crazy to be that many meters above sea level and see people simply living life up there. They don't know any different and from the other side of the spectrum, maybe I don't either.
I can't even comprehend the swagger behind this dude. He's about to drop the hottest album this year.
I couldn't really point to you on the globe where I was volunteering in Nepal, I think it was somewhere in the South East? On this hike I had absolutely no idea where I was. I couldn't picture myself to be anymore lost in the world.
There was an elderly lady who had a bit of trouble bringing all her gear up the mountain. My host helped her and we all took turns carrying her gear. My host was very selfless and honest. But that night my perspective changed on him quite drastically.
Buddy, buddy, BUDDY! He was honestly the bravest dog I've ever seen. We were walking in the paddocks and around 20 cows start coming up to us. Buddy to the rescue, starts running around terrorising all the cows. Making sure we get away safely. England's very own UnderDog.
I love horses. Although I have no experience with them, they are like so majestic. But when I came this close with the horse, my camera and I freaked out.
Slightly jetlagged and I was driving this monster. It was a hectic expeirence but by coffee break I could handle the very delayed steering. After a few hits here and there.
Pedro the great! Hes the best Italian teacher I've had.
This power Irish couple literally danced for ages. They had an absolute blast dancing together like crazy, it was beautiful to see. Real love.
I was waiting to order my drinks at the pub and this super bubbly Nigeran guy starts talking to me. He was hilarious and so loud, but everyone was hating on us because he was next to order.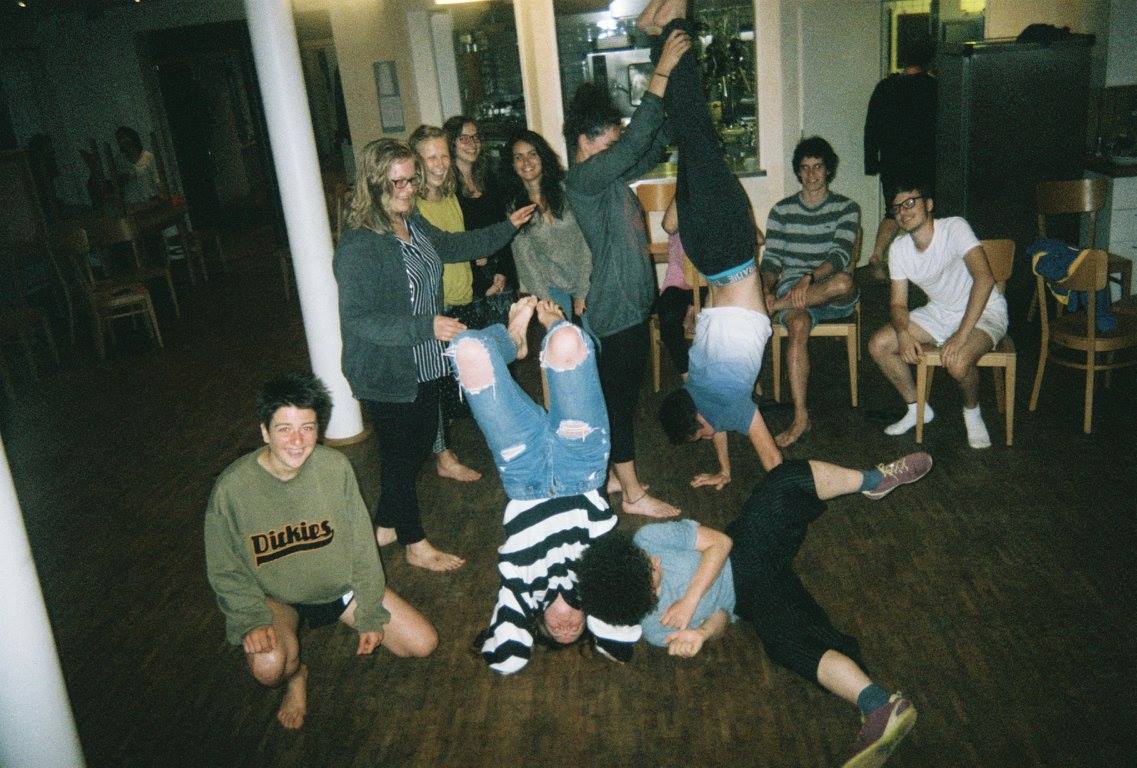 A couple of girls were dancing and moments later everyone joined in with cart wheels, hand stands and other very unique dance moves. That was a fun night.
I'm very comfortable cooking for myself, because if its overcooked or anything, thats okay because I'll eat it. But when cooking for other people, that is a whole different level of stress. So when I helped in the kitchen, cooking for over 150 people.. I was pissing myself.
Going into those little hidden streets and hiding from all the tourists. San Marco is pretty but hiding yourself in the alleys and watching the boats gently float by and softly play the ukulele. That wins for me.
Getting free Spanish lessons that mainly consisted of me trying to sing Despacito and not succeeding at all. It was a good laugh anyways.
I'm almost double her size and here she is carrying me on a wheelbarrow. In saying that, her biceps are probably double the size of mine.
Freestyle rapping to pass time as we wait for our train to take us back home. Little did we know there was a tree in the middle of the railroad, we arrived back home at 3 am.
We woke up in the French countryside fields, jumped into the car and each of us took a turn in choosing which direction to go. Somehow we ended up in a beautiful little medieval village with a castle.
That FlatBoy inflatable was unbelievably comfortable, regardless of any situation.
I'm not thinking about life or how pretty the sky is. I'm focusing because I was getting stage freight from pissing off the rocks.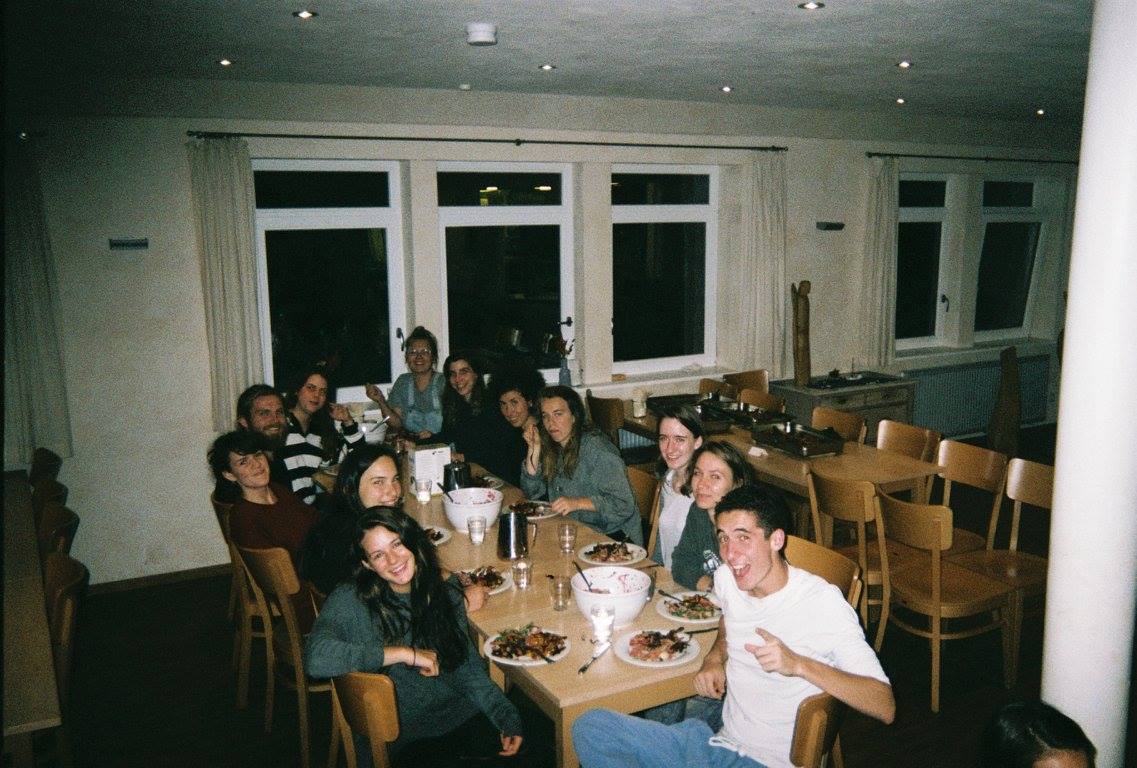 I find it really interesting when you meet someone for the first time and you just have no idea how in a couple of weeks how much of an impact they can make on you. Everyone in this photo defiantly made an impact on me. I love that.
Sometimes I would get so lost in my thoughts writing, I simply had to look out that window for inspiration.
We started to run, faster and faster, within a few moments the wind had picked us up and took us up into the heights of the mountains. I've never felt anything like it. Oh man.
A very eventful 18 hour road trip; from jamming to Spice Girls in the car, eating Vietnamese, getting ridiculously lost, jamming to Spice Girls on the streets, exploring a mirky sea and being stranded on a highway.
A succesful failure.
I lost everything to a Scottish man who had a straight on the river. I'm still getting over it.
The Central Perk of Sammatz.
We were so ready and had no idea what the next couple months were going to look like.
I was here four years ago and it took my breath way. This time we were unlucky because we got hit with the fog; but optimism conquers fog.
Convinced Drew to run up this ice glacier shirtless with me. He reluctantly agreed. We benefited nothing, Drew almost coughed out blood. That was amusing.
One of my favourite travel photos. I hope to say something similar when my time comes.
One of the hardest and most gruelling hikes of my life. But for views like this; worth it.
Prepping for father hood.
I thought Mt. Rushmore would be boring at midnight, but it was anything but. No tourists, just me, Drew and the four presidents.
Somewhere in the middle of Nebraska, about to drive through a storm.
I wish there was a word to encapsulate the feeling of summiting a mountain.
Drew illegally flew his drone and almost hit the nose of Abraham Lincoln. We would have been sent straight to Federal prison.
Washington State was filled with nature like this.
I collapsed shortly after.
Find yourself a brother who challenges you and will stop at nothing to get the best out of you.
Finding a moose in the wild and then we spent sometime documenting it. I got a little too close (5m), and he charged at me! We had a very brief chase scene and then he stopped. I definitely learnt a lesson that day.
These French guys were hilarious, after a few too many drinks, one of them tried to show me how to crowd surf. He ended up kicking over the poker table. Twice.
Meeting some friends through Air BnB and going on a photography sunset hunt. Unfortunately the sky didn't exactly do what we hoped, yet still memorable.
The most softest and laziest dog we've ever seen. And biggest.